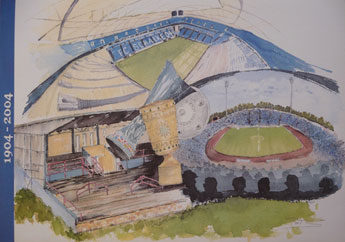 1904 - 2004 the three stadiums
The image is the result of personal passion and was created on the whim and was chosen by the Schalke Fan Club Association (SFCV)  as a fan-Card selected subject. The image was printed more than 12.000 times on the fan card. The card also serves as a means of payment in the Veltins-Arena and is an object for collectors. In addition, the association has offered the image as a poster.
It shows the three stages of the association (Glückaufkampfbahn, Park Stadium, Veltins-Arena) and in the middle the achievements in form of trophies (German league cup, DFB Cup, UEFA Cup)
For this picture, there are countless stories. Each Schalke fan has its own individual experiences… this is the reason why this motif is so popular with many Schalke-fans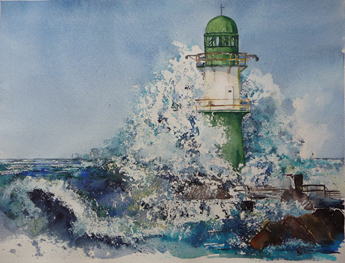 storm surge
My winning image in the international competition calendar Hahnemühle with the theme "water, wind and waves". From 2.000 entries from 700 artists from 11 countries, is my one of the twelve winning images for the calendar art Hahnemühle 2011th. The calendar was printed in a limited edition of 2.000 pieces.